3Dream FAQ
General 3Dream Questions
What is 3Dream?
---
The concept of 3Dream, Dream, Design, Deliver, is to link your design creations to real world items, in a virtual world environment. This allows you to create your client's space, add your design touches, and then sell your project in its entirety with automatic presentation reports and walk-through tours. You will be able to search and select any design decision items such as wall treatments, window treatments, flooring types, furniture, etc, and place these items in your plan by simply dragging the item using your mouse onto your planning area.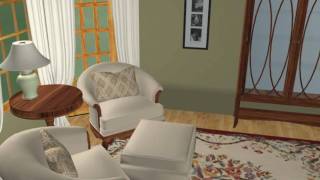 ---
I am not very technical or computer savvy, is 3Dream complicated?
---
No. 3Dream is not complicated, unlike many other drafting & design programs. Its very existence comes from the desire of a very creative but non-technical industry (Interior Design) to have at its disposal a truly amazing design tool that is easy to learn and use. Our main task is letting you be extremely creative while only having to learn a few basic functions. If you browse the internet, or can send an email, you are ready! And with comments and suggestions from users, we will strive to only make it better.
---
What happens if a certain item I need is not yet on 3Dream?
---
3Dream was conceived of as a community for interiors professionals. We need feedback on what items you need to work with, which companies you would like to see, and new features & functions you want in order to make this work. Since there are literally millions of products out there, we obviously cannot have every item represented in 3Dream. In the Contact Us link on your Dashboard let us know which products you would like to see. Even send in an image or Vendor name that we can use to create the 3D model. If the product will benefit the community, we will create the items.
---
I'm worried about internet security, is your site secure?
---
Yes. 3Dream.net is a secure web site. To ensure you are signing on to a secure site, make sure the web address you are visiting begins with https as 3Dream.net does. The s stands for secure. Any secure site will also have a certificate from VeriSign, Thawte or another certificate authority.
---
Is 3Dream compatible with an ipad? Which tablets would work best for this presentations?
---
You can create the 2 and 3D designs on your laptop, and then take various SNAPSHOTS in both 2 and 3D view and save these snapshots to your computer. These snapshots can now be inserted (copy/paste) into things like Powerpoint etc. or just displayed as a photo gallery on your iPad. The iPad does not (yet) have the horsepower needed to work with 3Dream, but can certainly be used for presentation purposes. Another method of presenting your 3D designs is creating the VR 360 images while in 3D view in 3Dream. Send these special VR 360 images via the submit button on the dashboard and we will return a VR 360 link to you for viewing on the iPad or even on your phone. You may also go a step further and view these links on your phone with the optional VR headsets. Very impressive!
---
Can multiple users or team members use my account?
---
The user that owns and has been assigned the Subscription 'Master Account' can share their login credentials - User name (email) and password. Scheduling use of the account will be necessary as only 1 user can use the account at any given time. When the account is in use and another user logs in – the first user will be logged out. Alternatively, you may wish to consider obtaining Sub-Accounts for additional users. For a fraction of the Master Account fee you can give your team members each a Sub-Account – that have the same full access rights as the Master Account. The Master Account holder pays for the account – and owns the works contained in the Sub-Account(s).
---
I am an Educator – do you offer programs for Colleges and Universities?
---
Yes we do! Contact us for more information at info@viewittechnologies.com or 1-800-449-9984.
---
I am located outside of Canada and the United States. Can I use 3Dream?
---
Yes! We are a world-wide web based program. You can access your account throughout the globe. If you are not able to, please contact our support at info@3dream.net
---
What types of payments do you accept?
---
We accept any major credit card (Visa, Mastercard or Amex) we also accept cheque's as well as Paypal.
---
I do not have a credit card – can I still purchase 3Dream?
---
The short answer. Yes. you will need to call our offices in order to set up a payment arrangment at 1-800-449-9984.
---
Can I import 3D products into 3Dream
---
You are able to import what is called "My Materials" which is a static image to place on top of objects such as; Art, rugs, wallpaper etc. This is outlined in our my materials section. You are not able to import 3D products into 3Dream without us creating it. If you would like your product placed in 3Dream please contact us to situate a price for each product at info@3Dream.net.
---
---
Account Information
What is a Dashboard?
---
The Dashboard is the first page you see after you login. This is where you can view & launch your most recent projects, add or edit clients, receive any messages from the 3Dream team about new functions, products and companies added, industry news and events, as well as being able to search for anything by using the Google search bar. Outside of the actual 3D planner this will become your main working area.
---
I am a furniture retailer that offers interior design services, can I sign up?
---
Yes. 3Dream was created for Interiors Professionals and is offered to-the-trade-only. Whether you work for an interior design studio, or a retail store that offers interior design services.
---
Sounds great! What is the cost?
---
3Dream is a subscription service that will automatically be billed on your major credit card. The monthly fee for 1 Master Account for 1 month will be $39 USD. Additional accounts under the Master Account will be $34 USD or less, depending upon the number of sub-accounts. Accounts can be set up using Visa or MasterCard. American Express can only be used if paying for a year's subscription.
---
Can I sign up for a year?
---
Yes. We will be offering a yearly pre-paid subscription. This will equal approximately 11 monthly charges, giving you a discount of 1 month over paying monthly. In addition to the discounted rate, yearly subscribers may also receive special features over those paying monthly.
---
Do I have to sign a contract? Am I locked in?
---
No. You do not have to sign a contract, or are locked in, unless you've opted to pay for a year's subscription in order to receive the discounted rate. If you choose to cancel or suspend your account, you must notify us at least 7 business days before your next billing date. Your service will remain active up to this date.
---
I am an interior design student; can I use 3Dream?
---
Yes. We have always strongly believed in supporting today's design students with providing the best available tools now, so that when you enter the working world you are already trained and ready to go.
---
Is there a student discounted rate?
---
Yes. We offer a student subscription. Please contact us at info@spaceplanning.com for more information. Toll free 1-800-449-9984. We will need: Name of school Instructor's name Course name & length You should also talk to your design instructors to see if they can get 3Dream in your school!
---
I am a home products vendor; how can I get my products on 3Dream?
---
The very concept of 3Dream is to provide a state of the art design environment to working interiors professionals. The next logical step is to let them use real products, from real companies. Regardless of your product type: furniture, area rugs, art, lighting, accessories, office furniture, window treatments etc, we can set your company up as a 3Dream vendor. Your products can be searched for & used in a design, edited with your options (finish, fabrics, size and any other applicable information). The 3Dream users of your products can then contact you directly with regard to the products they have a specific interest in, thereby providing a highly qualified lead. Please contact Ross Barlett, ross@spaceplanning.com for more details.
---
Is there a free trial period?
---
Yes. The 3Dream Basic account is free. But it does have limits on the number of projects, rooms, snapshots and clients which can be created and saved in 3Dream. There is also a limit on the amount and variety of 3D products and materials which can be viewed and used in your scenes. You may sign up with the free Basic account and upgrade to one of the professional accounts at anytime.
---
My company has many designers that want to use 3Dream. Can we have multiple accounts that I can control?
---
Yes. You can have as few as 1 account, or as many as 1,000 sub accounts under the control of the master admin account. The master account contains the company information and lets you set up as many sub accounts as needed as well as letting you control access such as passwords, user names, etc.
---
Can my partner & I share an account?
---
Yes. However only one user can be signed on at any one time, and all the projects will be accessible by anyone with access to your account.
---
I forgot my password. How can I get it sent to me?
---
Simply click on the Click here if you forgot your password link on the login page, and your current password will be sent to the email address that you registered your account with.
---
Can I scan my own fabrics and use them in 3Dream?
---
Yes, now you may import your own fabrics, wallpaper, art images via the Material Upload Tool and use them in your 3D scenes. Images and textures should be .jpeg or .png image format and no larger than 500 KB
---
Can I change dimensions of items?
---
Yes. 3Dream allows you to modify the size of most generic items.
---